Rims, conceived, designed and manufactured in Germany for highest demands. Get rims with unique manufacturing quality. You can always count on Grasdorf when the loads on the wheels increase.
The Grasdorf Wheel® - individual custom-made products in
OEM quality
Flexible manufacturing brings you the decisive Advantage
From the "batch size one" to small series from 50 wheels
or large quantities: We manufacture all wheel types ourselves
this makes us flexible and ensures short delivery times.
This also includes special conversions: To
Example for your special crops or heavy pulling work, when maximum load capacity and high
traction are required. Our ultramodern production
with welding robots and the experienced team guarantee
you the quality you need for your requirements.
Felgenhornverstärkung – z.B. für Forstfahrzeuge und Gülletankwagen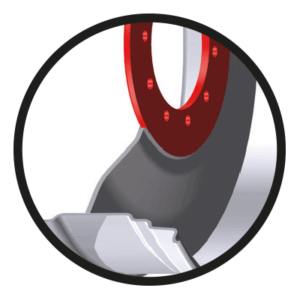 Bolt circle reinforcement - e.g. for powerful tractors, heavy harvesters and large trailers
Additional pitch circle - e.g. for mounting dual wheels or wheel sensors
patented filling nozzle for quick air pressure adjustment
Valve protection - e.g. for forestry vehicles and construction machinery
Contact surface colour-free (primed) - prevents loosening of the wheel connection 
A wheel is a wheel? Not at all! The model range of our Grasdorf bikes offers a dimensionally accurate product for every application and thus enables maximum efficiency. In addition, we supply all our wheels as a complete package with original equipment approval and also undertake necessary repairs and modifications.
HD:
The HD dual wheels fit in any position.
Short attachment of the locks to the spacer ring fixes the wheel quickly and securely!
The calibrated distance ring transmits the force evenly to the rim ring.
The HD shutters can be used up to a motion angle* of 60 degrees.
AW-Quick:
For tractor output up to 160 hp
With the AW-Quick coupling system, standard wheels with different connecting dimensions can be mounted.
Wheels can be used as main or dual wheels.
Use up to 160 PS (Duel wheel size max. 580/70R38).
The spacer ring with seat in the rim flange guarantees a stable connection.
MD+/HD+:
MD+ and HD+ are patented locking systems. 
The MD+ and HD+ dual wheels fit in any position. 
Short suspension of the fasteners on the spacer ring transmits the force evenly to the rim ring.
The lock can be readjusted when hooked in.
The MD+ and HD+ shutters can be used up to a movement angle* of 28 degrees.
*Movement angle refers to the mounting or installation position.
Each wheel a unique specimen
Our range of wheels and tyres allows an immense number of possible combinations and thus complete wheels for a wide variety of purposes. Nevertheless, it is not uncommon for a wheel to have to meet very special requirements, such as an enormous tractor or load weight or unusual size specifications. In such a case we design and manufacture - in cooperation with the customer - special wheels tailored to the customer's needs, which exactly meet his individual requirements and
in material thicknesses of 12-22 mm and a press-in depth of up to 220 mm. Thanks to state-of-the-art technology, such as 3D CAD programs and the latest welding robots, we can offer our customers not only tailor-made
products, but also guarantee fast and flexible production.
Last but not least a special service that we offer our customers: all Grasdorf bikes are painted by us in every conceivable RAL colour in OEM quality and are thus also optically fully adapted to the customer's needs.
Premium bike in OEM quality.Up to 3 times longer service life due to all-round welding on both sides and bowl thicknesses of up to 18 mm.If required, additional bolt circle and rim flange reinforcements as well as UP welding for maximum performance under the most extreme conditions.Realisation of individual track gauges.Minimal manufacturing tolerances thanks to state-of-the-art CAD design and the use of high-precision welding robots.Painting system certified according to the specifications of the vehicle manufacturers and use of OEM paints.Translated with www.DeepL.com/Translator
Complete wheel program up to 54".Bowl welded on both sides without unpainted gap at the transition to the rim ring.Centrally mounted rim dish due to the possibility of large offsets.Minimal manufacturing tolerances due to state-of-the-art CAD design and use of high-precision welding robots.Maximum corrosion protection through a certified painting process and use of original paint from the manufacturer.
For earthmoving, construction machinery and special vehicles, we manufacture both one-piece drop-centre rims and 3 and 5-piece disc wheels that can withstand extreme loads and speeds. Because Grasdorf wheels have a particularly high stability, they can be found wherever high reliability is required under extreme loads.Take advantage of our exemplary just-in-time delivery of completely assembled wheels directly to your production - ready for assembly and painted in your corporate colour Many well-known manufacturers have already found us to be a reliable partner and appreciate our service, which saves time, costs and effort.
Designed for special vehicles up to 150 km/h, this wheel lives up to its name!Special vehicles that need to reach the scene of an emergency quickly and reliably require a wheel that is better than the standard. Examples are fire-fighting vehicles, large mobile cranes or even military transporters.
Enables track width adjustment on modern high performance tractors with driving speeds of up to 50 km/hTwo-piece wheel dish with rim ring welded all around, easy centering and significantly improved service life compared to the track adjustable rims commonly used up to now. Spacers are no longer necessary. In the "Wennekamp Special" version it can also be used as a double wheel.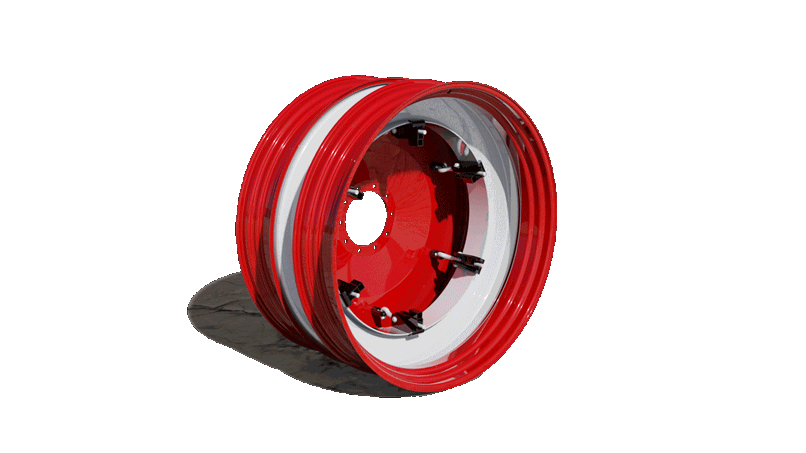 For use in row crops, narrow grooming wheels can also be driven as double wheels. For this purpose we adjust the spacer ring for you so that both wheels run exactly between the rows of the respective field crop.With such a protective track you get twice the contact area compared to standard single tyres and can therefore reduce the ground pressure to a minimum.