Standard
Premium bike in OEM quality.Up to 3 times longer service life due to all-round welding on both sides and bowl thicknesses of up to 18 mm.If required, additional bolt circle and rim flange reinforcements as well as UP welding for maximum performance under the most extreme conditions.Realisation of individual track gauges.Minimal manufacturing tolerances thanks to state-of-the-art CAD design and the use of high-precision welding robots.Painting system certified according to the specifications of the vehicle manufacturers and use of OEM paints.Translated with www.DeepL.com/Translator
Narrow
Complete wheel range up to 54"Disk welded on both sides without unpainted gap at joint to rim ringConcentrically constructed rim disk by using major offsetsMinimum production tolerances due to state-of-the-art CAD design methods and application of high-precision welding robotsMaximum protection against corrosion due to a certified paint process and by using original coatings of the manufacturers
OE
For earth moving and construction machines as well as for special purpose vehicles we produce both single drop-centre rims and disk wheels consisting of 3 or 5 pieces that resist extreme conditions with regard to load and speed. Since Grasdorf wheels dispose of an extraordinary stability, they may be found wherever - under extreme conditions - a high degree of reliability is required.Make use of our exemplary just-in-time delivery of completely fitted wheels direct to your assembly line - ready to be fitted and coated in the individual colour shades required. A lot of renowned manufacturers have recognized us as a reliable partner and appreciate our service that saves time, cost and other expenditure.
Highspeed
Designed for special-purpose vehicles of up to 150 km/h, this wheel really lives up to its name!Especially those vehicles that have to get to the site of operation quickly and reliably will require wheels that are better than standard, e.g. vehicles of the fire brigade, big mobile cranes or military trucks.
System
Allows for adapting the track width on modern high performance tractors reaching a speed of up to 50 km/hTwo-piece wheel disk with fully welded rim ring Easy centring and essentially improved life expectancy compared to the conventional track adjustable rims Any spacers are no longer required In the "Wennekamp Spezial" version it may also be used as a dual wheel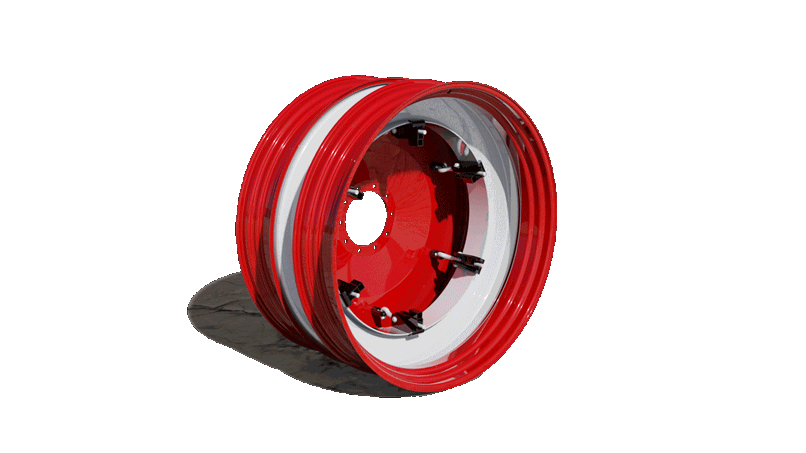 Spaced twin wheels
ADVANTAGES
Minimum soil load due to double footprint Just slightly caved in tracks even in case of narrow wheels Cost reduction for the field work to follow Plants are less damaged when the crop is passed over Improved plant growth entailing increased yield For handling row crop cultures narrow wheels may also be used as dual wheels. For this purpose, the spacer ring will be adapted according to your demands so that both the wheels are exactly running between the croprows.With this light track you will get double the contact area compared to the standard single tyres, and thus the soil pressure may be reduced to a minimum.
Dual Wheel
Suitable for all tractor performance classes and also for special vehicles.

HD:
The HD dual wheels fit in any position.
Short attachment of the locks to the spacer ring fixes the wheel quickly and securely!
The calibrated distance ring transmits the force evenly to the rim ring.
The HD shutters can be used up to a motion angle* of 60 degrees.

AW-Quick:
For tractor output up to 160 hp
With the AW Quick coupling system, standard wheels with different connection dimensions can be mounted.
Wheels can be used as main or double wheels.
Use up to 160 PS (Duel wheel size max. 580/70R38).
The spacer ring with seat in the rim flange guarantees a stable connection.
MD+/HD+:
MD+ and HD+ are patented locking systems.
The MD+ and HD+ dual wheels fit in any position.
Short suspension of the locks on the instance ring transfers the force evenly to the rim ring.
The lock can be readjusted when hooked in.
The MD+ and HD+ shutters can be used up to a movement angle* of 28 degrees.
*Movement angle refers to the mounting or installation position.
Sometimes the standard choice is not satisfactory. In this case, a number of special services are offered with the help of which the Grasdorf wheel may be adapted to your individual requirements, either by additional reinforcement of material to improve the durability or by any measures increasing the comfort and/or the range of application.
RIM FLANGE REINFORCEMENT
e.g. for vehicles for forestry purposes and liquid manure tanks

PITCH CIRCLE REINFORCEMENT
e.g. to be operated with twin or even three wheels
ADDITIONAL PITCH CIRCLES
e.g. for fitting dual wheels, attaching wheel loads or sensors
EXTRA VALVE PROTECTION
e.g. for vehicles for forestry purposes and earth-moving machinery
SPECIAL OFFSETS
Thanks to our high-performance rim press we will be able to produce almost any track width required!
Airbooster Plus
The air pressure regulator for everyone!Cost-effective alternative to fixed control systems. Fast and mobile air pressure adjustment at any location. Universally applicable on any machine. Approx. 10% diesel saving and significantly increasing area performance.